Agricultural Equipment Sales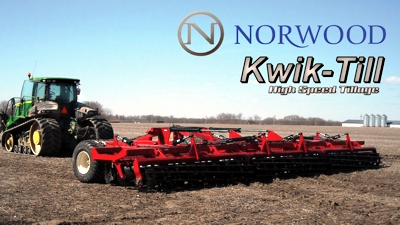 We provide sales and support for these lines of agricultural equipment:
Norwood Kwik-Till is American-made and a highly effective disc-tilling machine, ideal for soil conditioning in the presence of high levels of crop residues. With a full soil disturbance, trash is cut and distributed evenly providing a protective barrier to retain moisture. The Norwood Kwik-Till operates best at high speeds, giving a fuel efficient operation and allowing stubble residues to pass easily through tined seeders. A depth gauging roller is provided at the rear giving the desired crumbling effect on the soil profile and excellent seedbed preparation.
We offer sales and distribution for the Norwood Kwik-Till. Contact Us for more information.
Sovema produces agricultural equipment for land cultivation, gardening, hay equipment, turf maintenance, material handling, and tractor cabs.
Wallenstein makes work feel a little more like play. Country property owners rely on Wallenstein for the right outdoor power equipment. From forestry products, including wood chippers, splitters, skidding winches and log trailers, to backhoe attachments, manure spreaders and power products, the right tools turn big jobs into small tasks. Grab your tractor and hook on to Wallenstein for quality implements manufactured in Canada made for you and your property.
BaumaLight manufactures a variety of attachments including brush mulchers, rotary brush cutters, stump grinders, PTO generators, auger bit & drives, trenchers, tree spades, tree saws & shears, boom mowers, drainage plows.
Rite Way Mfg. Co. Ltd. is the name to remember if you're looking for high quality and affordable farm equipment. When you purchase a Rite Way product, you're purchasing the company's commitment to simplicity of design, attention to detail, high-quality construction and efficiency.
Furthermore, Rite Way stands firmly behind its products. So when you purchase a Rite Way product, you're also purchasing a relationship that will last as long as you own the equipment.
Contact us to see how our products can assist your agricultural operation today!